July - the month of American Independence Day and French Bastille Day and Canada Day; the month marking halfway through an Aussie winter. We've only had a couple of cold nights here in sunny Queensland so far. I noticed the other day that Scotland was having the same temperatures as we were! - and they're in mid Summer. You gotta laugh!
So here are a few more things in my kitchen. Feel free to join in this month, my lovely virtual friends. And it would be brilliant to see some newbies here, so any of you foodie folk who read IMK but don't join in ... I am sending brain waves out to you - join in, join in :-) ...
In My Kitchen:
a chocolate haul
I bought a few things online from Coco Chocolate; that's their hot chocolate mix bottom left. Sooo delicious, but not cheap so that's why I made my own.
and then there's olive oils
I ordered these from an olive grove in Victoria; beautifully zingy oils; the lemon one is great in hummus.
I love her kinda clunky but gorgeous work, with that tell-tale indent for your thumb, making it easy to hold. There is something so comforting about holding a beautiful, handmade object and drinking delicious beverages from it.
hmm another book?! Yes indeedy
I loved reading all the Gerald Durrell books when I was young, though I cringe these days thinking about the awful way he 'collected' animals for zoos. Babies taken from mothers, trees chopped down to reach them, mothers killed to get the babies ... Oh, how it makes me shudder! But anyway - I shall enjoy these family recipes, and think of their (somewhat) idyllic life on Corfu in the 1930s.
and more chocolate
And then there was more chocolate; this time from The Chocolate Box in Melbourne. Online shopping, you are killing my bank account :-) Delicious peanut butter frogs and fluffy marshmallows. And a few other things which I shall show you another time, my friends.
as per the label :-)
I bought this little gem in a very quirky general store in the backblocks of the Northern Rivers hinterland (you know it's the place of my heart) in a village called Clunes. They have the best cemetery ever! I might have to be buried there, with the cows and the rolling green paddocks...
cute green tree frog and black bean pod
Okay, not strictly in my kitchen but close by. This is the sweetest little green tree frog sitting in a black bean pod, all made from clay. The artist is Lindsay Muir, who hails from the Sunshine Coast hinterland. Below is a photo of the actual pod (courtesy of the Australian National Herbarium). Lindsay's beans look so real, don't they?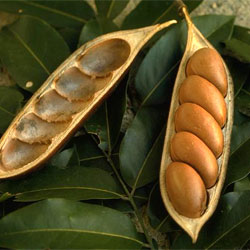 black bean aka Moreton Bay Chestnut
I didn't realise these are Australian natives; for some reason, I thought they came from South America, but no. In fact, the indigenous Australians have used them for food for millennia.
The leaves and seeds are toxic to livestock though, so farmers have to make sure they don't let their cows near them.
delicious one tray chicken and veg bake

Nothing nicer than a delicious one tray bake with chicken and veg., flavoured with wedges of lemon and garlic cloves. We had this with rice one recent cold (for Queensland) night.
brilliant red chillies from a friend's garden
A gift from a friend's garden. We love chillies in this household! They go into just about everything we cook and eat: chilli, stews, curries, stir-fries, soups, you name it. You could even add them to chocolate mousse to give it an Aztec aura.
Okay, that's it from me for this month. I will await your wonderful posts with breathless anticipation!
How to add your very own IMK post to the link:
1. Add via the Add Link button at the bottom of this post. Instructions can be found on the sidebar of this page, under the Add your IMK link
2. Comment on this post, providing a link to your post so I can add it to the list below.

3. Email me: sherrym1au@gmail.com, with your link or any queries about the link process
You are invited to the Inlinkz link party!
Click here to enter
In My July Kitchen:
Sherrys Pickings